BULK LIQUID LOGISTICS
Through its head office in Genoa and its branch office in Fino Mornasco (CO), Safim Srl provides solutions for transport and/or storage of chemical, food and pharmaceutical liquid products.
Its offices manage:
Overseas shipping transport with ISO tanks up to 26,000L
European intermodal transport with swap tanks up to 35,000L
Road transport with tankers
Rental and storage

Through its offices and agents, SAFIM is active throughout Europe and worldwide, offering the best tailor-made solutions to customers needing overseas maritime transport or intermodal and road transport services across Europe.
BY SEA - BY RAIL - BY ROAD , BY SAFIM!
Having adopted the new HSE integrated system (ISO9001-ISO14001-ISO45001), SAFIM focuses on sustainable and safe transport solutions, choosing suppliers that are fully committed to these increasingly important issues.
FOR YOUR MARITIME AND INTERMODAL SHIPMENTS, CHOOSE TANK CONTAINERS TO AVOID PACKAGING AND DISPOSAL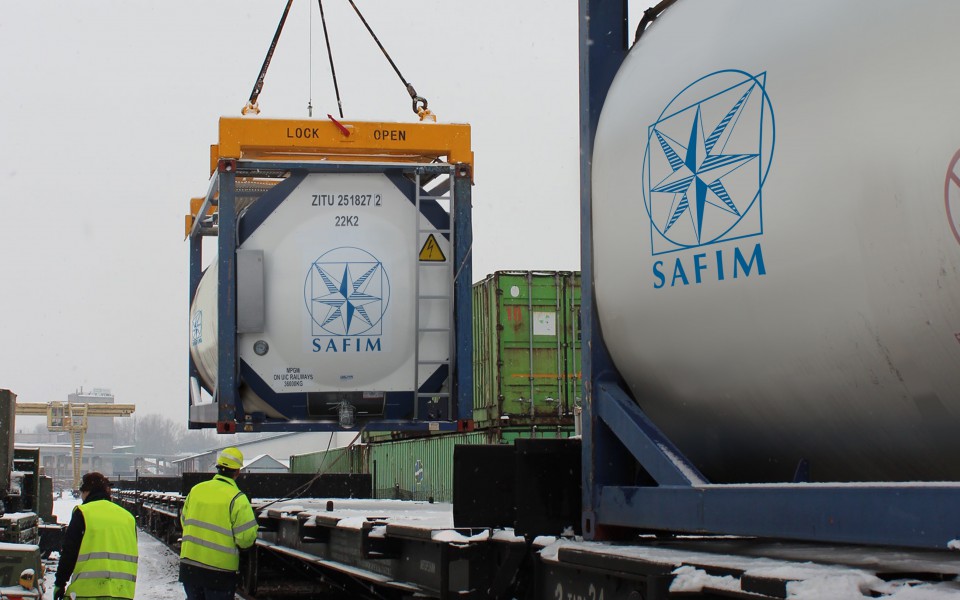 WHY TANK CONTAINERS
Being very easy to transport and allowing any kind of transportation by truck, train and ship, tank containers are being used more and more frequently in the transportation of bulk liquid goods. Moreover, they are also quicker and more flexible than all other loading procedures.
Tank containers are the only means that eliminate risk factors for dangerous goods as well as for all chemicals, and all international register companies regard them as the safest means for transport of bulk liquid products.
Tank container technology is at the forefront: tanks are made of 316L stainless steel, thus ensuring maximum quality both for transport and storage of goods. Tanks are covered with a very thick rockwool insulation that protects goods from temperature changes. Besides, tanks are equipped either with a steam heating plant or with a water heating plant.
Another very important aspect lies in the fact that, after the unloading of the product, tank containers do not discharge any kind of residue (as drums, cisterns, flaxibags, sacks etc... do), thus being completely recyclable after a simple cleaning, without disposal or waste management expenses, and especially without causing further pollution and waste of energy.
All these points make tank containers an increasingly demanded means on the market.
For dangerous organic or chemical products, Tank Containers are the best solution to eliminate pollution risks arising from loading and unloading operations. Moreover, for the same size of one TEU, Tank Containers allow to transport an extra 30% of the load usually transported in drums.
SPECIAL SERVICES
TRANSPORT SERVICE
RENTAL SERVICE
SALES SERVICE
SPECIAL OPERATIONS
LOCAL TRANSPORTS
CONTAINERS REPAIR
CARGO HEATING (STEAM / HOT WATER / ELECTRIC)
NITROGEN PURGING OF CONTAINERS
WASHING AND CLEANING
SUPPLY AND ASSEMBLY OF FITTINGS
SAMPLING
PERIODIC TESTING
CONTAINERS LABELLING
SAFETY DATA SHEETS
CONTAINERS DEPOT
ASSISTANCE AND INSPECTIONS